Whimsical Wanderings will be shutting down on January 1, 2018.
Please check this thread for further information.
Ready for the New Year?
Posted 12-31-2016, 07:15 AM by
jaqtkd
I've been meaning to update this for a while but am still finding it a struggle to get used to these blogs, I admit.



ART:


The Christmas period has been good and generally a little more organised/productive than usual.  Rattled off a few music wish list gifts & a piece of art before the day and also made a small start to two others which I finished recently.  I'm pleased with the way my art skill has improved recently and I'm now tackling things I steered away from as a teenager.  I look back on my 'best' stuff from my A Level days and realise, with surprise, that I've surpassed my ability during a relatively short space of time.  Looking forward to working on more stuff in the new year.

Whereas my family have always seemed slightly baffled by my writing, they have embraced the rediscovery of my art ability with a lot more enthusiasm.  My parents booked me a day art course in April as a Christmas gift which I'm very excited about, and my Sister-in-law gave me a book of Querkles which are basically 'colour-by-numbers gone mad'.  Here's the first one complete ...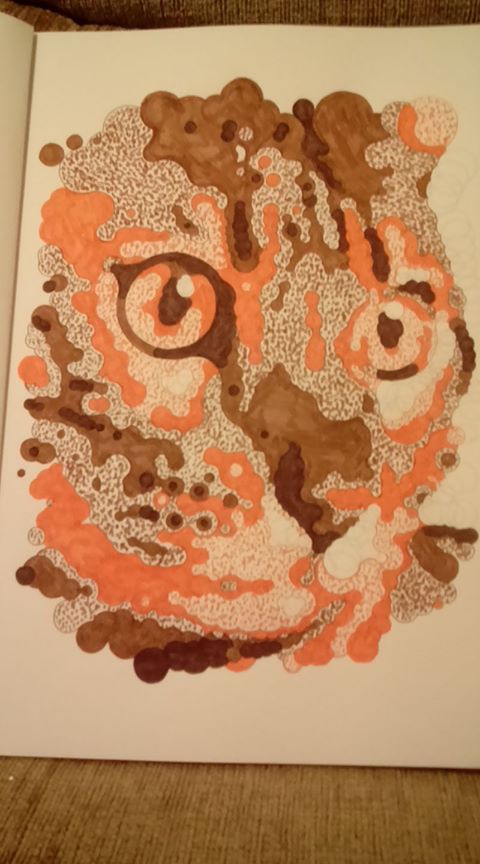 Made a start on the second one, but then my hand complained and I had to take a break.




WRITING:


My writing has not been quite so good.  It's true I finished of 'Zoomalia' which is an achievement in itself considering the autumn/winter I've had, but most of my other plans have stalled. Haven't got any further with 'Magistrates, Magicians & Mutants' and admit I've been hit by some self-doubt on this recently.  At the very least I should get back to editing Book 1 and working on Book 2 and see how it goes.

For now, I'm going to tackle the easiest of the remaining originals 'The Artisans' which only needs a little editing and moving over.  Having only recently solved my formatting issues on WW, I've tidied the nine chapters that are up there at the moment and will hopefully reopen that folder tomorrow and get myself reacquainted with it all.  Not sure about getting the next chapter out tomorrow - will have to see what state it's in.  

I've been really enjoying some good stories on TV recently and there's part of me that keeps grabbing onto little ideas at various point.  I think, perhaps, I might soon get inspired to look at something completely new, or at one of my very rough, early ideas and get going with that.  We'll see.



WALKING:


Finally, I admit that I'm loving my new Fitbit - another brilliant Christmas present, this time from Hubby.  It's already encouraged me to get out for formal walks and to be generally more active.  I had a cheap version before but this one is just so much better.  If anyone else here has an actual Fitbit, I'd love to friend you on the site.  Drop me a PM and I'll send you my email so we can connect.



2017:


Okay, so my goals here are just to focus on my weekly timetable and try to include all three of the above, plus work harder to keep the house and patio tidy.  My work hours have been creeping up very slowly, which is good for the bank balance, but makes the balancing harder.  Really do need to get a lot better with my free-time management.

Happy New Year, everyone. 
Tagged with jaq-walks, jaq-draws, jaq-chats, fitbit

1 Comments
Comments
Posted 01-02-2017, 09:33 AM by
MadameMorganLeFay
Family slightly baffled by your wriitng, jaq? I had to admit that made me laugh, because writers are so MISUNDERSTOOD. Don't worry, when you're doing book signings at the Savoy Hotel, they will be proud! 
 

Anyway, best of luck for this year!